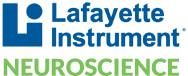 SCURRY ACTIVITY MONITORING SOFTWARE
Model 86165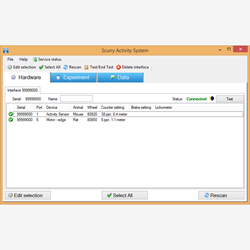 DESCRIPTION
SCURRY CAN
Monitor wheel activity counts
Monitor Lickometer counts
Control optional brakes
Control Motorized Wheels through 86100M Scurry Motor Interface
Record ambient light changes with integral Light/Dark sensor
Store data in a local database or MS SQL server
Record simple sessions based on time duration
Delay session start as appropriate for synchronized data collection
Control legacy Stand Alone Forced Exercise Wheel Beds for rats and mice (See the Stand Alone FEW Beds category on the Activity Systems page)
SPECIFICATIONS
MINIMUM COMPUTER SPECIFICATIONS
Operating System: Windows Vista, 7, 8, 8.1, 10 (32 and 64 bit editions)
Processor: 1GHz (multi-core recommended)
RAM: 1GB (4GB recommended)
Disk space: 60GB (1TB recommended)
Hardware: 1x (or more) USB 2.0 or higher ports*
* While USB connection support is somewhat unlimited, a practical limitation of 8 interfaces (supports 128 wheels, counters, or some combination of both) being connected to a single PC with software is recommended.
FEATURES
Advanced schedule designer for optional brake control or other custom operations.
Windows service for uninterrupted data collection.
Real time display of summary data for an active session.
Count data is recorded in 3 second bins.
Lick data is recorded in 1/4 second bins
Multiple data export formats.
View data in an Excel like grid or chart.
Adjust time bin intervals at analysis for meaningful output.
Automatic firmware and software update provided by Lafayette Instrument Company as needed.
REQUIRED ACCESSORIES
SCURRY INTERFACE FOR ANIMAL ACTIVITY

Model 86100
Monitor up to 16 Activity Wheels or Triple Lickometers with a single USB port. All wheel/lickometer support is handled by the Interface without encumbering computer resources.
SCURRY MOTOR INTERFACE FOR ANIMAL ACTIVITY

Model 86100M
The Scurry Motor Interface features four Motor Control ports as well as four standard activity monitoring ports identical to Model 86100.
Copyright © 2009 - 2021 lafayette Instrument Company. All Rights Reserved.