DETAILS
The 80004WTK consists of a modified modular test chamber rear panel with guillotine door and wheel tunnel. Shown below is a standard 80850 Rat Activity Wheel with the stainless steel supports that are included in the kit. These supports attach with the same screws as the standard wheel base and elevate the wheel so the two door openings are on the same horizontal plane. This kit does not include the actiity wheel, wheel counter, the modular test chamber or chamber components. Contact us directly for the details of a complete system to meet your specific needs.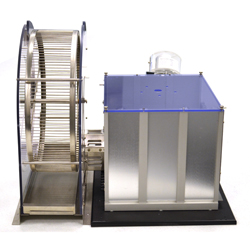 The stainless steel tunnel below is viewed from the rear of an 80004 Modular Test Chamber and is shown with the guillotine door open. Thumb screws on the activity wheel slip into keyhole slots on the tunnel flange to secure the two units together.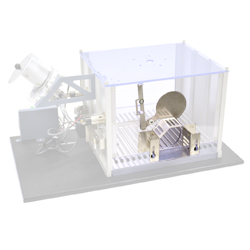 The four slots on each of the wheel supports below slip easily under the standard screws found on the 80850 or 80850M Activity Wheels as well as the 80850S and 80850MS Scurry Activity Wheels.