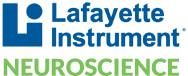 VISUOMOTOR CONDITIONAL LEARNING - VMCL - FOR MICE
Model 89542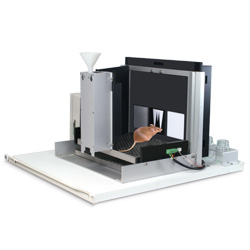 DESCRIPTION
This is a habit or stimulus-response task in which the rodent learns a rule of the type "If shape A is presented, respond to the left location; if shape B is presented, respond to the right location". This type of test is sensitive to damage in the dorsal striatum and is therefore relevant to Huntington's and Parkinson's disease.
REQUIRED ACCESSORIES
BUSSEY-SAKSIDA MOUSE TOUCH SCREEN CHAMBER PACKAGE

Model 80614
Not just another square sheet metal box, the Bussey-Saksida chamber has a unique trapezoidal wall shape to focus the animal's attention and is made from machined parts that simply slot together. The chamber can also be configured to a modular square chamber with panels, levers, lights, and a range of other operators.
Copyright © 2009 - 2021 lafayette Instrument Company. All Rights Reserved.