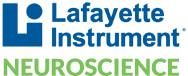 SCURRY-TRAC LOW PROFILE WHEEL KIT
Model 86140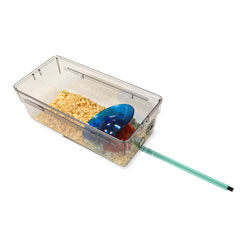 DESCRIPTION
The Scurry-Trac System uses Bio-Serv® Fast-Trac Wheels for mice with the Lafayette Instrument Scurry Activity System to provide activity monitoring in standard shoebox mouse home cages. The Mouse Igloo® provides shelter and a nesting area while the Fast-Trac's unique shape supports the rodent's natural and instinctive running behavior. The Scurry-Trac Pad sensor sends revolution counts to the counter placed safely outside the chosen housing unit.
** Chamber Not Included See Specifications for included items**
ADVANTAGES
Works with existing Fast-Trac Activity Wheels
The Mouse Igloo provides shelter and a secluded place to build a nest
External sensor pad and low profile counter are placed outside the cage
No batteries required
Fully Autoclavable
SPECIFICATIONS
KIT INCLUDES
FAST TRAC WHEEL KIT SPECIFICATIONS
Track Width: 1.42" (36.0 mm)
Track Diameter: 3.48" ID (88.5 mm, 4.90" OD (124.5 mm
Running Distance per Revolution: 13.19" (0.335 m)
Igloo Dimensions: 2.25" tall x 4.25" diameter (57.15 mm x 107.95 mm)
Igloo Door Opening Dimensions: 1.75" tall x 1.25" wide (44.45 mm x 31.75 mm)
Igloo with Attached Fast-Trac Dimensions: 3.375" tall x 6" wide (87.73 mm x 152.40 mm)
--------------------------------
** Chamber Not Included **
FEATURES
Adds environmental enrichment
Works with most shoebox cages
Uses a unique sensor pad and low profile counter
Compatible with standard Scurry Interface and Software
Copyright © 2009 - 2019 lafayette Instrument Company. All Rights Reserved.