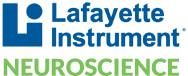 RAT FORCED EXERCISE BED WITH 220V/50HZ POWER SUPPLY
Model 80805A*C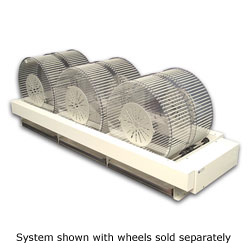 DESCRIPTION
The Forced Exercise / Walking Wheel System for Rats Model 80805A is designed to offer flexibility in conducting paradigms such as sleep deprivation and forced exercise. The sturdy exercise / walking bed will support up to 6 Rat Exercise / Walking Wheels Model 80806 and incorporates removable waste pans. The wheels incorporate a swing-hatch for easy animal loading and removal. The wheels rest on individual tracks with cushioned non-slip grips. The hand held LCD interface allows the user to set a single exercise / walking speed, exercise time, rest time, and number of cycles. A built in USB interface may be connected to a Microsoft Windows computer running optional Model 86165 Scurry Activity Software for complete flexibility of speeds, times, and other aspects of scheduled exercise.
For countries requiring 220-230V AC 50 Hz operation, Model 80805A*C is available with localized AC mains cord. International pricing will apply.
SPECIFICATIONS
Power:

15VDC, 4.6A Power Pack (included)

Line Voltage:

110/115 V AC @ 60 Hz

Dimensions:

51.0" x 17.9" x 16.9" (129.54 x 45.47 x 42.93 cm) (with wheels)

Weight:

20.0lbs. (empty), 41.0lbs. (with 6 wheels)

Wheel Diameter:

13.38" ID (33.99 cm) (wheels sold separately)

Wheel Width:

4.4" ID (11.18cm)

Run Distance:

1.07 meters/revolution

Speed Range:

1.0 - 28.0 meters/minute standard
1.8 - 50 meters/minute optional
0.1 m/min increments

Exercise Time Range:

1 - 999 minutes, Continuous
FEATURES
Supports 1 - 6 wheels at a time
Each wheel is captured in its own running track
Each wheel is supported on cushioned non-slip grips
Three removable stainless steel waste pan
Wheels can be added or removed while operating
System has rubber feet or can be permanently mounted to a flat surface or workbench
System is easily disassembled for cleaning
Water Support Option: Model 80807 (

see Accessories

)
REQUIRED ACCESSORIES
RAT EXERCISE / WALKING WHEEL

Model 80806
These wheels feature durable polycarbonate sides with a large aluminum hatch for easy animal removal and aluminum rungs for a comfortable running surface.
OPTIONAL ACCESSORIES
WATER SUPPORT OPTION FOR FORCED EXERCISE BED

Model 80807
Order 1 to 6 Water Bottle Supports with Bottle and Sipper as needed for the Rat Forced Exercise / Walking Beds.
SCURRY ACTIVITY MONITORING SOFTWARE

Model 86165
Scurry features streamlined, user-friendly electronics with integrated wheel and lick monitoring, programmable brakes with improved control and resolution, and a robust interface with secure data backup.
RELATED PRODUCTS
FORCED EXERCISE / WALKING WHEEL BED

Model 80805A
The Forced Exercise / Walking Wheel System for Rats based on the Model 80805A Bed is designed for sleep deprivation and controlled exercise studies.
Copyright © 2009 - 2022 lafayette Instrument Company. All Rights Reserved.