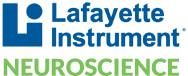 MODIFIED SYRINGE PUMP
Model 80203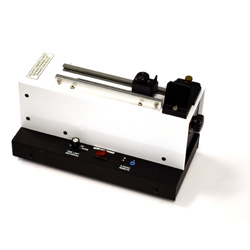 DESCRIPTION
The Model 80203 3.3 RPM Modified Syringe Pump is designed to administer a fluid / drug at a fixed flow rate as required for liquid reward or drug self administration. The rocker switch on the front side of the unit provides an enable / disable function. When placed in the enable position, the pump is placed in a ready mode and will operate when an ABET output or other suitable control is connected to the REMOTE input.
The plunger carriage has been designed with a knob and spring mechanism for easily relocating the carriage to any position. An adjustable limit switch is also integral to this unit. The limit switch will disable power to the motor when the extent of travel has been reached.
SPECIFICATIONS
Power: 110-240 ~ 1A, 50/60Hz
Time Limit (seconds): 15, 30, 45, 60 & None (no time limit control set)
Remote Input: +5-30 Volts DC
Motor Velocity: 3.3 RPM (other speeds available on special order)
Dimensions:
8.75 x 3.0 x 3.0 inches
22.23 x 7.62 x 7.62 cm
Copyright © 2009 - 2020 lafayette Instrument Company. All Rights Reserved.