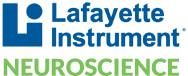 LOCATION DISCRIMINATION - LD - FOR MICE
Model 89546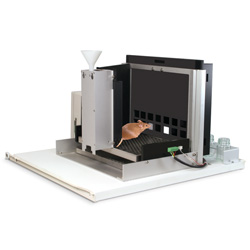 DESCRIPTION
The rodents are required to discriminate between two white squares on the screen. Responses to squares on one side of the screen will be rewarded, while responses on the other side of the screen will be punished with a time out period. The distance between the two squares is varied from trial to trial. Animals with lesions in the dorsal hippocampus were impaired when the locations were close together, but not when they where far apart.
REQUIRED ACCESSORIES
BUSSEY-SAKSIDA MOUSE TOUCH SCREEN CHAMBER PACKAGE

Model 80614
Not just another square sheet metal box, the Bussey-Saksida chamber has a unique trapezoidal wall shape to focus the animal's attention and is made from machined parts that simply slot together. The chamber can also be configured to a modular square chamber with panels, levers, lights, and a range of other operators.
Copyright © 2009 - 2021 lafayette Instrument Company. All Rights Reserved.