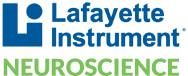 BUSSEY-SAKSIDA MOUSE TOUCH SCREEN CHAMBER PACKAGE
Model 80614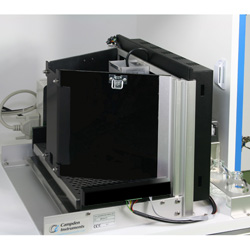 DESCRIPTION
For more information about the ever expanding amount of published research using our Touch Screen Systems, visit the DOWNLOADS and SCIENCE sections! For more news about the system, check out our news page!
Look to Lafayette Instrument Company for a "Science above Hardware" approach not found from any other supplier. The fully validated chambers described below are supported by ready to run ABET II Touch Paradigms including images, and a Whisker ® Server-based Controller for up to four test chambers. Plus, we provide the ability for the user to write their own scheduling, with web-based training. ABET II Touch software gives you ease of use, programming power, data analysis, versatility, and flexibility.
Not just a touch screen, everything about the Bussey-Saksida chamber is different
Not just another square sheet metal box, the Bussey-Saksida chamber has a unique trapezoidal wall shape to focus the animal's attention and is made from machined parts that simply slot together. The chamber can also be configured to a modular square chamber with panels, levers, lights, and a range of other operator
This equipment can run both autoshaping and a variety of operant tasks in the same chamber, with chamber configuration from autoshaping to one of the other proven paradigms in seconds Not just a touch screen, this is the ultimate modular chamber for high throughput. For example, do Visual Discrimination and Reversal in the morning and Five Choice Serial Reaction Time Task in the afternoon
To enable such a high throughput, the chamber can be taken apart and reassembled in seconds for easy cleaning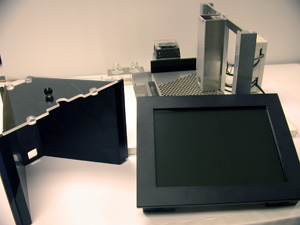 Get up and running quickly, with the Easy-Install Kit and buy proven tasks pre-programmed in ABET II Touch or get programming yourself quickly and easily with web-enabled online help from Campden Instruments and Lafayette Instrument Company
Translational research: test rodents on tasks virtually identical to tasks used to test human populations
The Bussey-Saksida Chambers and WhiskerServer ® originate from the department of Prof. Trevor Robbins, Experimental Psychology, University of Cambridge, England
TOUCH SCREEN PARADIGMS
Visit DOWNLOADS for videos of these tasks.
Visual Discrimination and Reversal (VDR)
Paired Associate Learning (PAL)
Location Discrimination (LD)
Visuospatial Conditional Learning (VCL)
5-choice Serial Reaction Time Task (5-CSRT)
Trial-Unique Nonmatching-to-Location (TUNL) [rat only at this time]
Autoshaping
Extinction
VISUAL DISCRIMINATION AND REVERSAL TASK (VDR)
Age-related impairments in the R6/2 Huntington's disease mouse model


Morton, Skillings, Bussey & Saksida (2006) Nature Methods
PAIRED ASSOCIATE LEARNING TASK (PAL)
Intra-hippocampal infusions of MK-801 impair performance of the PAL task

But perhaps the most promising data from this task comes from our studies using donepezil, an acetylcholinesterase inhibitor that is a commonly prescribed drug for AD in the UK. Donepezil enhanced performance on PAL in a dose-dependent manner. This result shows that PAL is able to detect cognitive enhancements, as well as impairments.
LOCATION DISCRIMINATION TASK (LD)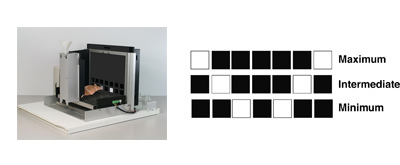 McTighe, Mar, Romberg, Bussey & Saksida (2009) NeuroReport
Neurogenesis knock-down impairs pattern separation in the Location Discrimination Task


Clelland, Choi, Romberg, Clemenson, Fragniere, Tyers, Jessberger, Saksida, Barker, Gage & Bussey (2009) Science
Dorsal hippocampal lesions impair pattern separation in the Location Discrimination Task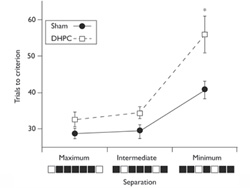 McTighe, Mar, Romberg, Bussey & Saksida (2009) NeuroReport
AUTOSHAPING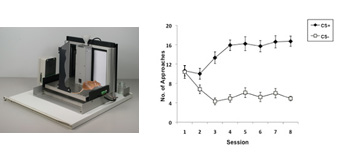 Data from C57/Bl6 mice on the Autoshaping task. A stimulus (white rectangle) is shown on either the left or right of the screen for (usually) 10 seconds. Over trials the animal learns that the CS+ predicts reward and makes increasingly more responses to the CS+, and fewer responses to the CS-.
INCLUDES
Touch Screen
Chamber Base with non-shock perforated floors
Trapezodal Walls
Feeder Reward Area
Liquid Pump Feeder
Speaker
House Light
White Noise / Tone Generator
SAC
SPECIFICATIONS
ANIMAL WORKING AREA
46mm Wide at Feeder, 238mm Wide at Screen x 170mm Deep (241.4 Sq. cm or 37.5 Sq. in)
Working Area is 230mm in Height
SOUND ATTENUATION CUBICLE (SAC)
Attenuation: Approx. 35dB
Weight: 33 kg (empty)
External Dimensions: 565mm Wide x 545mm Tall x 532mm Deep
Internal Dimensions: 505mm Wide x 485mm Tall x 532mm Deep
FEATURES
Add to the chamber, many options for different shaped walls and configurations, different floors, pellet or liquid reward, ambulatory I/R beams, I/R observation systems, and sound attenuation cubicles
ABET II Touch software resides on the WhiskerServer Controller. One Controller can control up to 4 chambers
Paradigms from Bussey's lab [Cognitive Systems Neuroscience Laboratory, University of Cambridge, England] are available as pre-programmed ABET II Touch schedules
Touch screen units are modified and optimized for use with rodents; all technology is research-validated and scientifically proven in Bussey's Lab
Easy-Installation Kit keeps the wiring neat and tidy to get you up and running quickly and impress your regulatory inspector
Beginner packages includes the starter chamber, trapezoidal walls, perforated floor, reward trough, touch screen and sound attenuating cubicle with slide out tray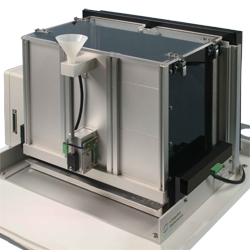 Chamber shown with modular panel walls (Model 80614-3)
and corresponding reward trough (Model 80614-17).
SCIENCE
Lecture Poster put together for Prof. Tim Bussey and the Distinguished Lecture Series located at Seoul National University on September 21, 2011.
Prof. Tim Bussey's profile at the University of Cambridge.
Details on the usage of Bussey-Saksida Touchscreen Chambers at Western University.
Improving cognitive testing on animals to treat human disorders: Technology developed at the University of Cambridge is transforming the way cognitive tests are performed on animals, leading to more directed experiments and ultimately aiding development of new drugs to treat schizophrenia and other neurocognitive disorders.
Guardian article on recent research indicating why regular exercise benefits brain cell growth.
BBC Article on recent research indicating why regular exercise benefits memory.
BBC Article on recent research indicating why regular exercise benefits brain power. Based on a Cambridge University study.
Abstract and graph presented at British Association for Psychopharmacology (BAP) 2010.
Featured application plans to use touch screens with microdialysis for sampling in the extracellular space. As shown in the image our design enables the lines to the animals to be as short as possible (the entry point to the chamber are at the side at the connection panel with the cooling fan) and the carousel can be rolled in and out on a shelf.
OPTIONAL ACCESSORIES
ABET II SOFTWARE FOR TOUCH SCREENS

Model 89505
Operant monitoring and control software for use with the Touch Screen modular hardware.
PERISTALTIC PUMP FOR LIQUID REWARD FOR MICE

Model 80204M
Single channel peristaltic pump featuring electronic control of the pump head including an electronic brake, to ensure accurate delivery of liquid reward down to a minimum of 7 microlitres. Volume is calibrateable when used with Whisker and ABET II software.
PELLET DISPENSER WITH 20MG INTERCHANGABLE PELLET AND OPTIONAL STAND

Model 80209-20
A reliable pellet dispenser that features powerful motor drive with optical stops and optional pellet drop detection. Also available with an optional vertical or cantilever stand.
TWO-CHOICE VISUAL DISCRIMINATION REVERSAL FOR MICE

Model 89540
The task involves learning that one of two shapes displayed simultaneously on the screen is correct. Touching the correct stimuli will be rewarded by delivery of food to the reward tray.
PAIRED-ASSOCIATE LEARNING TASK - PAL - FOR MICE

Model 89541
In humans this task has proved to be highly effective for the early detection of Alzheimer's disease. In the PAL task for rodents, rats learn and remember which of three objects goes in which of three spatial locations.
VISUOMOTOR CONDITIONAL LEARNING - VMCL - FOR MICE

Model 89542
This is a habit or stimulus-response task in which the rodent learns a rule of the type If shape A presented, respond to the left location; if shape B is presented, respond to the right location.
5-CHOICE SERIAL REACTION TIME TASK - 5CSRT - FOR MICE

Model 89543
This task requires the rodent to respond to a brief visual stimulus presented randomly in one of 5 locations. This task in rodents is sensitive to cortical manipulations, especially those involving prefrontal cortex, and is highly dependent on cholinergic transmission.
TRIAL-UNIQUE NONMATCHING-TO-LOCATION TASK - TUNL - FOR MICE

Model 89545
TUNL can be thought of as a version of delayed nonmatching-to-place, usually carried out in a conventional Skinner box with levers, in which the rats are presented with a sample location and, following a delay, are presented with two choice locations.
LOCATION DISCRIMINATION - LD - FOR MICE

Model 89546
The rodents are required to discriminate between two white squares on the screen. Responses to squares on one side of the screen will be rewarded, while responses on the other side of the screen will be punished with a time out period.
AUTOSHAPING FOR MICE

Model 89544
The task measures a Pavlovian response to the screen. This is a very rapidly administered test of simple classical conditioning that is dependent on a reward system centred on the ventral striatum.
Copyright © 2009 - 2020 lafayette Instrument Company. All Rights Reserved.