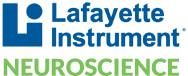 AUTOSHAPING FOR MICE
Model 89544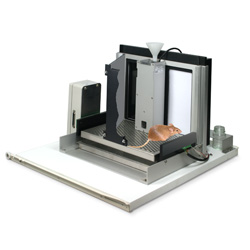 DESCRIPTION
The task measures a Pavlovian response to the screen. This is a very rapidly administered test of simple classical conditioning that is dependent on a reward system centered on the ventral striatum. White vertical rectangles are presented on either side of the reward tray. One side is always followed by delivery of food reward, the other never. Reward is independent of screen approach. Approaches to the screen are measured via an IR beam detector either side of the food tray.
REQUIRED ACCESSORIES
BUSSEY-SAKSIDA MOUSE TOUCH SCREEN CHAMBER PACKAGE

Model 80614
Not just another square sheet metal box, the Bussey-Saksida chamber has a unique trapezoidal wall shape to focus the animal's attention and is made from machined parts that simply slot together. The chamber can also be configured to a modular square chamber with panels, levers, lights, and a range of other operators.
Copyright © 2009 - 2020 lafayette Instrument Company. All Rights Reserved.