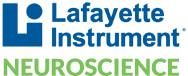 TWO-CHOICE VISUAL DISCRIMINATION REVERSAL FOR RATS
Model 89540-R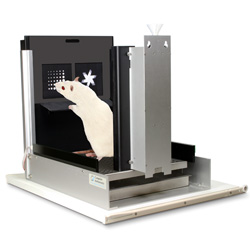 DESCRIPTION
The task involves learning that one of two shapes displayed simultaneously on the screen is correct. Touching the correct stimuli (S+) will be rewarded with food. Touching the incorrect stimuli (S-) will be punished with a timeout. Once the task has been learned, the stimuli are reversed so that the S+ stimuli now becomes the S- stimuli and vice versa. This reversal learning requires inhibition of prepotent responses and is known to be dependant on the prefrontal cortex.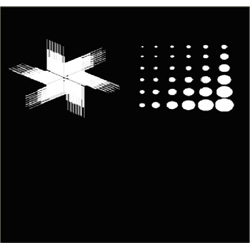 REQUIRED ACCESSORIES
BUSSEY-SAKSIDA RAT TOUCH SCREEN CHAMBER PACKAGE

Model 80604
Not just another square sheet metal box, the Bussey-Saksida chamber has a unique trapezoidal wall shape to focus the animal's attention and is made from machined parts that simply slot together. The chamber can also be configured to a modular square chamber with panels, levers, lights, and a range of other operators.
Copyright © 2009 - 2020 lafayette Instrument Company. All Rights Reserved.