SCURRY RAT ACTIVITY WHEEL WITH LIVING CHAMBER
Model 80859S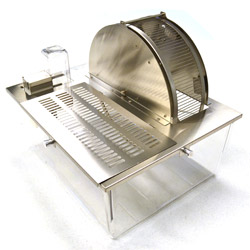 DESCRIPTION
The Scurry Rat Activity Wheel with Living Chamber was designed for long term circadian rhythm and general activity studies in rats or similar sized animals. The stainless steel wheel is 14 inches (35.56 cm) in diameter and turns with less than 6 grams of force. The running wheel is constructed of 0.036 in (0.91 mm) stainless steel rims with a running surface of 0.0625 in (1.5875 mm) rods on 0.3125 in (7.9375 mm) centers (0.25 in (6.35 mm) gap) for maximum durability and animal comfort. This system incorporates many features to allow for animal well-being. Easy removal of the Scurry Sensor/Couonter component (without tools) simplifies and speeds up regular cleaning and maintenance.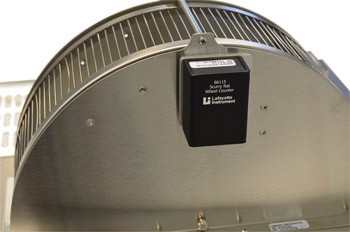 80859S Activity Wheel with 86115 Scurry Rat Sensor/Counter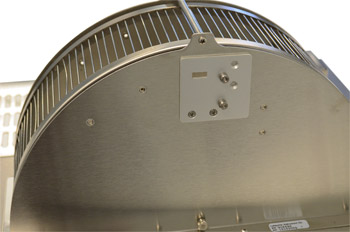 80859S Activity Wheel without Counter
SPECIFICATIONS
Tub Dimensions: 16" x 20" x 8.25"H (40.64 x 50.80 x 20.96 cm)
Overall Dimensions: 16" x 20" x 16.5"H (40.64 x 50.80 x 41.91 cm)
Weight: 13.2 lbs (5.99 kg)
Wheel Diameter: 14" (35.56 cm) I.D.
Wheel Width: 4.3" (10.92 cm) internal
Run Distance: 1.10 m/revolution
Recommended for animals up to 500 grams
FEATURES
Autoclavable polycarbonate Tub and Bottle
Stainless steel Lid and Wheel
Includes SS food hopper and polycarbonate water bottle with SS sipper
Equipped with external mounting bracket for mounting Model 86115 Scurry Sensor/Counter
Wheel portion is easily removed for cleaning
Wheel operates on virtually friction free rulon bearings
Use with 86125 Scurry Rat Brake or 80859LCK Manual Lock
REQUIRED ACCESSORIES
SCURRY INTERFACE FOR ANIMAL ACTIVITY

Model 86100
Monitor up to 16 Activity Wheels or Triple Lickometers with a single USB port. All wheel/lickometer support is handled by the Interface without encumbering computer resources.
SCURRY ACTIVITY MONITORING SOFTWARE

Model 86165
Scurry features streamlined, user-friendly electronics with integrated wheel and lick monitoring, programmable brakes with improved control and resolution, and a robust interface with secure data backup.
SCURRY RAT ACTIVITY COUNTER

Model 86115
All in one I/R sensor/counter for Scurry Rat Activity Wheels.
Copyright © 2009 - 2019 lafayette Instrument Company. All Rights Reserved.