SCURRY MOUSE MISSTEP WHEEL WITH FILTER LID
Model 80821FS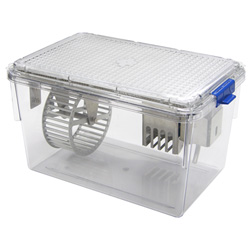 DESCRIPTION
This mouse activity wheel combines the features of the 80821S Miss-Step or MOSS style activity wheel with removable rungs and of the 80820FS Mouse Activity Wheel Chamber with Filter Lid.
The 80821S Scurry Mouse Activity Wheel is a variation on the standard voluntary running wheel Model 80820S where individual rungs may be removed to create a complex wheel or rung configuration. The complex wheel has been used to introduce the running wheel based Motor Skill Sequence (MOSS) in mice. This method has been used in the subchronic MPTP mouse model of Parkinson's disease. It has also been employed to display behavioural deficits of corpus callosum re- and demyelination in the cuprizone mouse mode of multiple sclerosis. Use the in text links above for more information on filter lids and miss-step wheels.
Additional standard wheel - 80820RW is included to facilitate quick changes from one style wheel to the other.
Additional MOSS wheels are also available on request.
SPECIFICATIONS
Overall Dimensions: 13.9"L x 9.25"W x 7.875"H (35.3 23.5 x 20 cm)
Weight: 5.8 lbs.
Wheel Diameter: 5.0" ID (12.7 cm)
Run Distance: 0.40 meters/revolution
Run Surface: (All rungs in place, standard configuration)

38 rods 0.188" diameter on 0.4298" centers with a 0.2418" gap
approx. 4.8 mm dia on 10.9 mm centers with a 6.14 mm gap
2.25" (5.72 cm) width (Inside)

Two Wheels Included: Standard 38 Rung Wheel, Configurable MOSS Wheel
FEATURES
Each of 38 rungs, 0.188" (4.8mm) diameter, is removable as needed to create the desired pattern
Uses 9.3" x 13.9" x 7.7" clear polycarbonate cage
Stainless steel top cover lays flush onto polycarbonate cage
All components are secured to top cover for one step removal
Feeder and water bottle are attached to top cover allowing for easy access. Optional hopper bracket available for hopper only removal when daily weighing is required.
Feeder has sighting slot on back to view feed level
Removable lightweight 5" diameter anodized aluminum wheel is easy to clean and maintain and is virtually friction free running on two Rulon bearings
Removable stainless steel vented access hatch allows for easy access to the animal
Complete chamber can be easily disassembled for cleaning
REQUIRED ACCESSORIES
SCURRY INTERFACE FOR ANIMAL ACTIVITY

Model 86100
Monitor up to 16 Activity Wheels or Triple Lickometers with a single USB port. All wheel/lickometer support is handled by the Interface without encumbering computer resources.
SCURRY ACTIVITY MONITORING SOFTWARE

Model 86165
Scurry features streamlined, user-friendly electronics with integrated wheel and lick monitoring, programmable brakes with improved control and resolution, and a robust interface with secure data backup.
SCURRY MOUSE ACTIVITY COUNTER

Model 86110
All in one I/R sensor/counter for Scurry Mouse Activity Wheels.
Copyright © 2009 - 2019 lafayette Instrument Company. All Rights Reserved.